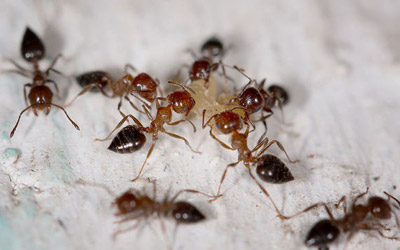 Over the years, the count of pests in Ontario has risen drastically. There are several insects that love to invade man-made properties just because of the presence of countless food sources. From rats to ants and spiders, there are so many of them that can be seen crawling in your interiors or yard. No matter, which pest has invaded your property; it is important to eliminate as soon as possible with the assistance of pest control experts.
Some of the common pests which are found in your yard include:
Ants

There are thousands of ant species found all over the world including fire ants, red ants, carpenter ants, black ants and many others. They are invasive insects which are held responsible for contaminating the food sources and degrading hygiene. If you notice an ant in the kitchen or in the yard, call an exterminator right away.

Bugs

Bed bugs are also known as blood suckers since they suck the blood of a person by biting them. They are hardly visible with the naked eye and are mainly found on the mattresses, bedding, hotels, yards and almost everywhere. If you suspect a bed bug infestation in your home, get your property treated with thermal heat remediation.

Rats

Alike ants, there are hundreds of rat and mice spices found globally. Of all, Norway rats and house rats are believed to invade the man-made dwellings. From chewing the wires and paper to damaging the structural integrity are some of the damages caused by rats. Also, they are vectors of deadly diseases including plague, jaundice and rat-bite fever.

Bees

Bees are tiny flying insects that mostly invade a yard or garden in search of nectar and pollens. They are highly aggressive and can sting a person whenever they sense a danger from humans around. Though their bites are not venomous, they can lead to pain, discomfort and swelling.
These are some of the common species that are mostly found in a home or backyard. If you are struggling with a pest infestation in your home, feel free to call our pest control experts at Port Dover Pest for effective insect control in Ontario.