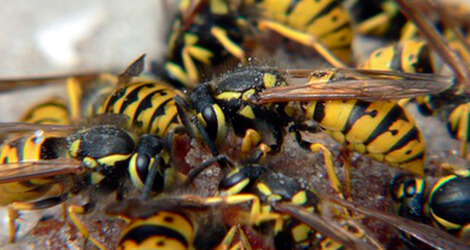 Is there a wasp or bee nest inside your yard? Are you afraid of wasps due to their bad stings? If yes, Port Dover Pest is here to assist you right away. We are a full-service wasp control company in Port Dover, Ontario that is proudly serving both residential and commercial clients with reliable and long-term wasp extermination. Whether you are dealing with a single wasp family or more ones, we are here to stand by your side.
Are Wasps Dangerous & How To Avoid Them?
Wasps are territorial pests that are aggressive in nature and can sting you or your pet, especially if their nest is irritated. They are dangerous to eliminate due to their painful stings. These pests usually build their nest within the wall voids and on the roof spaces.
Since a wasp nest is not a piece of home décor that you want in your yard, it is important to get it removed with the help of a wasp removal expert in Port Dover. Only a licensed exterminator who is skilled to deal with a bee or wasp infestation can remove them safely. If you want your home, yourself, your kids, and pet to be safe, opt for effective wasp control.
Our Wasp Control & Extermination Approach
At Port Dover Pest, we are concerned about the safety of your family and are equipped with the eco-friendly products to deliver reliable wasp control. Being in service for past few years, we have managed to earn an industry reputation for offering 100% guaranteed and safe pest removal from your home or office. Our approach towards wasps include:
Inspection
Treatment
Control
Extermination
Prevention
Follow up
What Makes Us The Right Choice?
A wasp's nest on your property is not less than a nightmare. Along with affecting your family, these pests are responsible for shooing away other beneficial bugs and your pets due to their territorial nature. If you are looking for humane wasp extermination in Port Dover, Ontario, you can put a trust on us.
Efficient & pet-safe treatments
Emergency & same day service whenever possible
Free of charge price quote
Non-hazardous products
Fast, prompt & reliable service
Licensed & insured exterminators